Peter Herbolzheimer was born on 31 December 1935 in Bucharest. He grew up in Romania and Gemany, followed by several years of working in the U.S.A. He started his musical career by playing the guitar and later turned to playing the trombone. During the Nineteen-sixties he played as a trombone player with various bands including the Bert Kaempfert Orchestra. In 1969 he founded his own bigband, Peter Herbolzheimer Rhythm Combination & Brass, leading it until his death. In his band he enlisted a who is who of renowened European jazz musicians including Herb Geller, John Ruocco, Bruno Castelluci, Heinz von Hermann, Ack and Jerry van Rooyen, Erik and Bart van Lier, Allan Botschinsky and many more.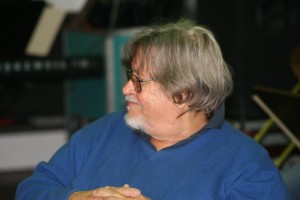 He composed and arranged music for several other bands indcluding Udo Lindenberg's Panik-Orchester, the Kurt Edelhagen Orchestra und various broadcasting bigbands. Together with Jerry van Rooyen and Dieter Reith he arranged the music for the opening ceremony oft he 1972 Olympic Games in Munich. He became well known to the general public by appearing in the popular TV show Bio's Bahnhof with Dr. Alfred Biolek.
For many decades Peter Herbolzheimer engaged in the education and advancement of young jazz musicians. In 1987 he founded the Federal Youth Jazz Orchestra (BuJazzO), serving as its leader until 2006. He supported projects with young musicians in numerous workshops and campaigned for early wind instrument education in several regions of Germany.
In 2007 he founded the European Jazz Academy with the MasterClass Bigband, the Greyhair Convention and the vocal group MasterBirds.
Peter Herbolzheimer died 27 March 2010 in Cologne.