When the Greyhair Convention convened for its first workshop the minimum age of musicians was fixed at 45 years. In the meantime, any such restriction have been overcome.
The basic concept remains: the Greyhair Convention consists of predominantly older, non-professional musicians, contributing their rich experience and abundant joy of playing to working with each other and with the young professional musicians.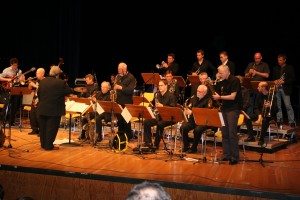 It is only the music that counts.
Of course, the Academy is dedicated to keeping alive the extensive repertoire of compositions and arrangements by Peter Herbolzheimer. Nevertheless, the influence of the new band leaders, John Ruocco and Erik van Lier, can now be felt.  And original compositions and arrangements of members of the bands and the vocalists serve to complement the programme to ensure that neither contemporary music nor the traditions of jazz are neglected.
"It makes me happy and proud to see that participants in our workshops make an own contribution to the programme."
Peter Herbolzheimer