John Ruocco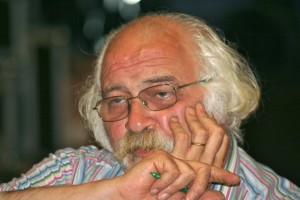 The saxophonist, clarinetist John Ruocco was born 18 September 1952 in New Haven, Connecticut. He has been living and working in Europe since 1979.
While living in Belgium for almost ten years, he played with numerous Belgian jazz musicians such as, Bert Joris, Charles Loos, Michel Herr, Act Big Band, Chris Joris, Phillipe Aerts, the BRT Big Band, and Bruno Castellucci.
He has also performed and recorded with Joey Baron, Kenny Werner, John Abercrombie, Billy Hart, Dino Saluzzi, and Barry Harris, to name a few. Moreover, he has been a member of the Peter Herbolzheimer Big Band for more than twenty years. He was the conductor of the Dutch Jazz Orchestra.
His dedication, his expression and his discipline have been a source of inspiration for a generation of saxophonists. He is currently teaching at the Royal Conservatory in Brussels and the Royal Conservatory in The Hague.
Erik van Lier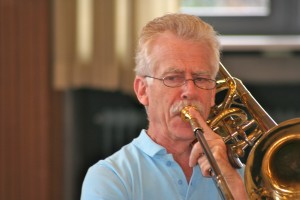 Erik van Lier was born 6 April 1945 in Haarlem, The Netherlands and started playing professionally at the age of 17 in the Dutch Radio Big Band The Skymasters. As a representative of the Dutch radio company NOS he played three times at the jazz workshops of the European Broadcast Union EBU and once at the European programme Nordring. During the Loosdrecht Jazz Festival he did a "trombone battle" with Slide Hampton, Ake Persson, Urbie Green, Kai Winding and Frank Rosalino. In 1974 he received a grant from the Dutch government to study with George Roberts ("Mr Bass Trombone"). During his stay there he also studied with Phil Teele, Paul Faulise and Ed Kleinhammer. Erik van Lier was the bass trombonist of the legendary Kenny Clarke-Francy Boland Big Band. He played with the Slide Hampton-Joe Haider Big Band, the Mel Lewis-Joe Haider Big Band and with Thad Jones' Ball Of Fire. He also played with Peter Herbolzheimer in Germany and with the Skymasters, The Netherlands Concert Jazzband and Bart's Bones, the trombone quartet of his brother. He was featured with his brother Bart at the workshops of the International Trombone Association (ITA) in Nashville 1987 and Eton (England) in 1989. At the Amsterdam Conservatory, the largest jazz department in Europe, he teaches bass trombone and conducts the two big bands.