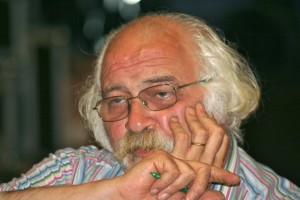 The saxophonist, clarinetist John Ruocco was born 18 September 1952 in New Haven, Connecticut. He has been living and working in Europe since 1979.
While living in Belgium for almost ten years, he played with numerous Belgian jazz musicians such as, Bert Joris, Charles Loos, Michel Herr, Act Big Band, Chris Joris, Phillipe Aerts, the BRT Big Band, and Bruno Castellucci. He has also performed and recorded with Joey Baron, Kenny Werner, John Abercrombie, Billy Hart, Dino Saluzzi, and Barry Harris, to name a few. Moreover, he has been a member of the Peter Herbolzheimer Big Band for more than twenty years.
He was the conductor of the Dutch Jazz Orchestra. His dedication, his expression and his discipline have been a source of inspiration for a generation of saxophonists. He is currently teaching at the Royal Conservatory in Brussels and the Royal Conservatory in The Hague.